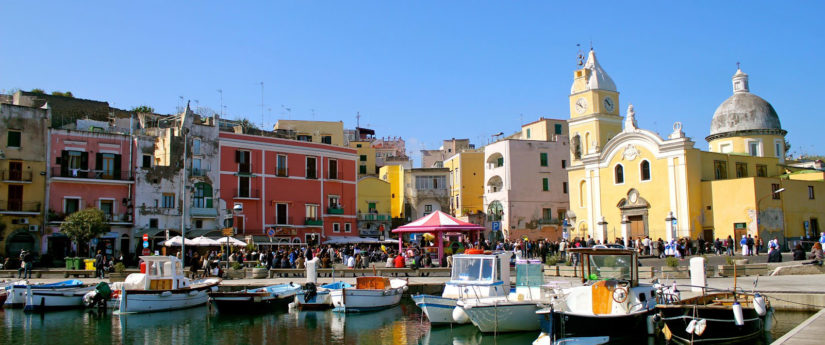 Ischia is the largest island within the gulf of Naples and it is called "the green island" for its luxuriant vegetation.
Divided in 6 different communes , it is an international thermal resort, thanks to its volcanic origin that allows visitors to experience natural wellness treatments such as hot water springs and mud baths. Procida is a very small and genuine fishermen island, unspoiled and colorful. A Neapolitans favorite for their summer holidays.
The heart if the life on Ischia is the town called Ischia Porto, which has gorgeous beaches such as Cartaromana, facing the Castello Aragonese. This is one of the best preserved castles in the Mediterranean area and is built on a small island of volcanic rock. The castle is connected to Ischia Ponte, a little fishermen's hamlet which has kept its beauty throughout the years. From the harbor we can reach Casamicciola Terme, the island's most famous area for thermal treatments, and from here Lacco Ameno, which spans from the sea all the way to the slopes of Mt. Epomeo. An interesting sight is a rock of green tufa stone, called Fungo (mushroom) for its unique shape. Forio, a town between the promontories of Punta Caruso and Punta Imperatore, hosts two of the Island's best beaches: Citara and San Francesco.
From Forio we can easily reach the bay of Sorgeto, the ideal spot to bathe even during the colder months, thanks to the presence of natural hot water springs and pools. Continuing the tour we enter the town of Serrara Fontana which reaches the top of Mt. Epomeo (788 meters above sea level). Another seaside hamlet is S. Angelo, originally a fishermen's borough and now a very quaint and fashionable pedestrian area. From here there are boats to the Maronti beach, the longest of the whole island with its 2 km of sand. Here, in certain areas, the intense geothermal activity creates natural fumaroles. On this beach there is the gorge of Cava Scura, which holds an ancient Roman thermal complex still active today. Coming up from the beach there is the town of Barano, known for the Nitrodi springs whose therapeutic properties were acknowledged ever since the Roman times.