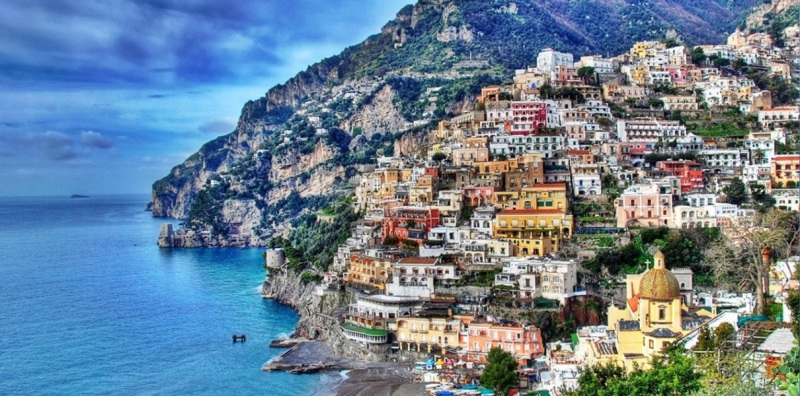 Celebrated by poems and songs worldwide, is the jewel of the Peninsula. A bustling international resort, it is also known for its scented orange and lemon groves, from which the famous limoncello is produced.
According to the legend, the name "Sorrento" came from the Sirens (mythical creatures part women, part birds and part fish) that forced the sailors to direct their ships towards the coastline. The origins of this ancient town are probably Greek, while the Romans controlled it during the 1st century BC. Since 420 AD it has been an important religious centre, while in 522 it was conquered by the Byzantine troops. From the 9th century it became an independent dukedom, competing against the nearby cities of Amalfi and Salerno. In 1137 it became part of the Norman kingdom, and it followed the destiny of Naples (which was capital) ever since.
The historical center still has traces of the original Roman orthogonal street structure, as well as the city walls built in the 16th century. The highlights include the Duomo, rebuilt in the 15th century with a neo-Gothic faade, and the church of San Francesco de Assisi with its beautiful cloister. The Museo Correale has exhibits of Greek and Roman finds, along with the world famous Capodimonte porcelains and a section dedicated to paintings from the 17th to the 19th century; the park is a great location to admire a wonderful view over the entire gulf of Naples. Near Punta del Capo, 3 km west of Sorrento, remains of a Roman villa (owned by Pollio Felice) have been brought to light, along with another waterfront villa: the one of Agrippa Postumo, which surfaced under the property of the "Hotel Syrene". This villa was commissioned by the unfortunate nephew of Octavian Augustus. At the moment the only visible area is the fish farm. The villa was part of a more vast monumental complex that was then included in the monastery of St. Paul.